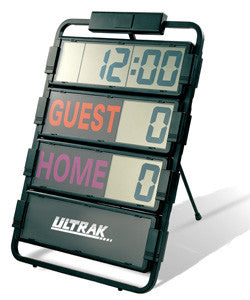 Cei Ultrak Multi-Sport Scoreboard & Timer SCOR
Regular price $525.00 Sale
CEI Presents Multi-Sport Scoreboard
CEI is proud to present the revolutionary Ultrak Multi-Sport Scoreboard and Timer. This multi-use scoring product shatters the competition in both versatility and price.
Currently, all other comparable products need electrical outlets to run. What makes the Ultrak Scoreboard unique is that it is battery powered by four D batteries. Combined with its radio frequency remote control, no cords are necessary. The user has the freedom to operate this product at any venue. The remote control operates the scoreboard from 150 feet away and line of site is not necessary.
With programmable countdown game time and scores up to 199 for two teams, the Ultrak Scoreboard is perfect for team sports such as basketball, volleyball and soccer. It can also be used with track and field events, displaying information such as time to complete event, competitor number and attempt number. The top panel can also be used as a count-up timer.
The Ultrak Scoreboard is 20 inches wide by 30 inches high and has large four inch LCD digits for viewing as far away as 150 feet. The unit can be free-standing on the ground or a table using the tripod leg or it can be wall mounted. The team name panels can be customized easily and the bottom panel can be altered for promotional or sponsorship purposes.
FEATURES
• Programmable game time
• Displays scores for two teams up to a maximum score of 199
• Large four inch LCD digits for viewing as far away as 150 feet
• 20 inches wide by 30 inches high
• RF remote control - no cords required - controllable from 150 feet - line of site not necessary
• Count up time with range to 9 hrs. 59 min. 59 sec.
• 24 hour clock
• Powered by AC adaptor or four D size batteries
• Free standing on floor or table or wall mounted
• Promotional advertising panel